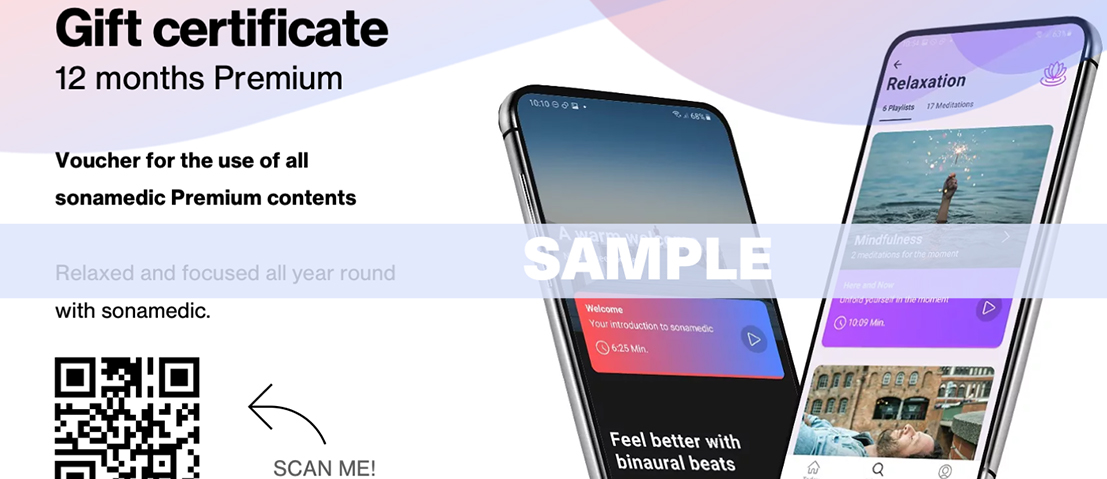 Whether for a birthday, Christmas or simply to make a loved one happy. With a sonamedic voucher you can give moments of relaxation, mindfulness and joy of life. Contact us at support@sonamedic.de if you would like to make someone happy with a sonamedic subscription.
You have received a coupon code for sonamedic and are wondering how to use it? We'll explain it to you:
Open the camera app on your smartphone and scan the QR code.
The notification "Do you want to open the link in the browser?" appears. Click on it. If your smartphone cannot open the QR code, simply click on the link.
If you have already installed the sonamedic app

The app opens and your voucher code is checked for validity.
Redeem the voucher code. A message appears: "You are now
ready to go". You can now use sonamedic Premium free of charge for the period specified in the voucher.

If you have not yet installed the sonamedic app:

A web page will open asking you to download the sonamedic app. Here you will find a direct link to the Play Store/App Store.
Install the app.
Scan the QR code again and follow the previous steps.
You can find a more detailed description in our FAQ.
If you have any problems or questions, please feel free to contact us at support@sonamedic.de. We will be happy to help you.
Have fun with sonamedic!